Scaling Digital Services to Reach 5 Million Farmers across Sub-Saharan Africa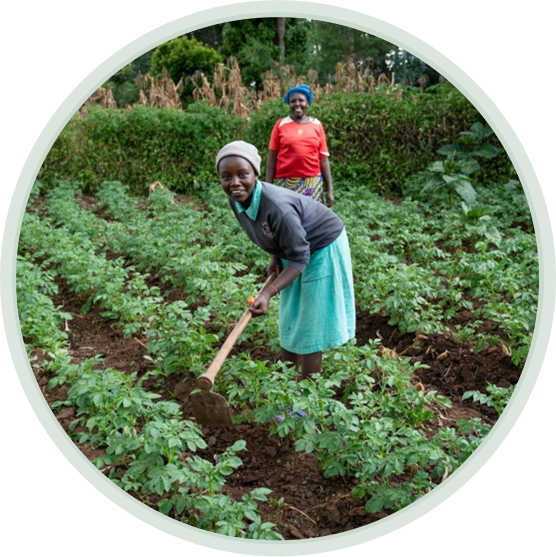 Bayer Foundation has made a commitment to support the global aid organization Mercy Corps to expand their Agrifin Digital Farmer program (ADF) to at least five million farmers in Kenya, Tanzania, Ethiopia and Nigeria.
Digitalization
Digitalization for farmers includes services ranging from delivering farming advice via text messaging to interactive voice response. It also includes smart phone applications that link farmers to multimedia advisory content, farm inputs, financial institutions, and buyers. It can also cover the use of drones and satellite systems to inform farmer activities, such as crops and times to plant; and types and amounts of inputs to use.
The challenge
These services are highly needed, as smallholder farmers across Africa face several challenges, including low access to information, investment, inputs and critical services like irrigation, which have a substantial and negative impact on productivity levels. Because 95 per cent of agriculture in Sub Saharan Africa is rain-fed, farmers are highly vulnerable to changes in climate. Increasing droughts and floods, along with pests like Fall Army worm and Desert Locust leaves farmers vulnerable at the front lines of food systems.
Digital services are growing
The Bayer Foundation believes that digitally enabled agricultural tools can contribute to increased farm productivity, income, gender inclusion and resilience, while forming the basis for increased investment and sustainable growth of the agricultural sector. "We see that the number of farmers subscribed to digital services has grown by between 40% and 45% per year in the last three years. Digitalization could change the game for agriculture in Africa," Monika Lessl, Head of the Bayer Foundation explains.
Agrifin Digital Farmer (ADF) program
Over the past two years, in its Agrifin Digital Farmer (ADF) program, Mercy Corps has already designed, tested and scaled digital services and products to boost the productivity of 2,4 million smallholder farmers in East Africa, of which 38% were women. In Kenya for example, ADF supported telecom provider Safaricom to build Digifarm; a platform that offers farmers convenient, one-stop access to register, buy farm inputs, access learning content on farming and access their farm records.
Another example includes Arifu in Kenya, which is a digital content and interactive learning platform that is personalized and free for its learners. Arifu's chatbot allows both smart and feature phone users to learn via SMS, WhatsApp, and Facebook Messenger. By developing this learning platform, Arifu digitized the agribusiness's traditional in-person training and product information dissemination, which reduced their cost of delivery from $20 to $1 per farmer. So far, this platform has helped 250,000 farmers to access good agricultural practices and improve their farming activities.
Building Climate Smart Partnerships to promote Smallholder Resilience
YYMMDD
Author/Uploaded by
Emergency Response
In 2020, East Africa has experienced a dual crisis; the largest desert locust invasion in decades and the global COVID-19 pandemic, both threatening farmers' livelihoods. In response, Mercy Corps deployed public health and desert locust messaging via multiple digital channels to over 16 million smallholder farmers.
To support the mapping and control effort, many of these channels were designed to enable farming communities to report sightings of desert locusts, turning rural communities into a large reporting force to assist the Kenyan/Ethiopian governments map the locations of and direct the control efforts to these migratory pests.
ADF2
With support from Bayer Foundation, Mercy Corps' ADF2 program will continue to target farmers in the next four years; working across a wide variety of crops and livestock value chains living on under $2 per day and typically cultivating less than two acres of land. To do so, ADF2 will build on the existing approaches and partnerships to design, test and scale digitally enabled services and products, while making sure these digital services will be accessible for women too. The program is expected to have positive impacts for farmers, partners serving farmers, and the digital ecosystem across Africa.
Photo Credit: MeryCorps
More stories like this: