Offering sex education for Nigerian youth through a private app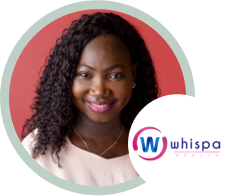 'Talking about sex is considered a taboo in most communities across Nigeria, West Africa. This makes it hard for young people to get proper and judgmental-free sexual health education. Morenike Fajemisin, who is the founder and CEO of Whispa Health—a Nigerian startup focused on sexual and reproductive health, is ready to break that taboo. In 2020, she launched Whispa; a mobile application that provides young people with private, even anonymous access to Sexual and Reproductive Health (SRH) information, products, and services.
Women Empowerment Award Winner
Morenike Fajemisin
Whispa Health
Interview
Can you tell us a bit more about Whispa?

"Through Whispa, clients can chat with our doctors privately, on any sexual or reproductive health problem or concern, without hassle or 'holier than thou' judgment. Clients can also book an appointment at a nearby hospital for a sexual health service like contraceptives, cervical cancer screening and vaccines or simply go for a general check-up. They can also order sexual health products such as HIV or STD self-tests, condoms, lubricants and lots more. Even though we just officially launched last year, we already have over 17,000 downloads of our app.  Our goal is to have 200,000 downloads by the end of next year. Approximately 40 per cent of our current downloads have made use of a paid feature, such as chatting with a doctor, or ordering a product or booking appointments. Our goal is to increase that number to 80 per cent. In the near future, we also want to scale to other countries; Ghana, Senegal, South Africa, Kenya, etc."
Why is an application such as Whispa needed?

"I have a cousin who got pregnant at eighteen. After she got pregnant, she could no longer go to school. Her life took a different turn. She couldn't continue her education.

Despite being preventable, stories like that of my cousin are still rather common across Africa today. While there has been significant improvement in sexual health practices, proper sexual health advice is still scarce. And when youth do decide to inform themselves, they often need to whisper. Internet and smartphone access has made things a bit better, and I wanted to use these digital means to reach youth; giving them an alternative for whispering. I wanted to tell them; we have your back; you are doing the right thing; you no longer need to run around to find the information you need.  Whispa is coined from the word whisper, which infers 'confidentiality' or 'privacy' but spoken in Pidgin English, one of the main languages in Nigeria."
Was it easy for you to become an entrepreneur?

"Not really! I grew up not seeing so many female entrepreneurs. I recently wrote an article about how when Nigerian women make more money than their husbands, they will try and hide it because that looks better societally. Despite the lack of female entrepreneurs around me, I got inspired by a variety of different people. My mom, a friend of my mom, and a number of male entrepreneurs, these are just a few examples of people who have showed me the way. Thanks to their guidance, I was able to finish my education and build a career as a pharmacist and public health professional. In 2013, I joined a large international company called DKT international that sells condoms, lubricants and contraceptives. This experience showed me the gap, but also the potential of sexual and reproductive health products and services. In 2016, I came up with the idea for Whispa, but it was not until 2020 until I officially launched the application. It took a lot of courage to take the road of financial uncertainty. Becoming an entrepreneur is scary! It took a long time to find the funding and to build, test and refine our platform before it was ready to launch."
What does it mean to win the Bayer Women Empowerment Award?

"The award is unique in the sense that it offers not just funding. It also offers mentorship and training. My mentors have been great so far! It has turned out to be more productive than I even thought. They have linked us to two organizations to help us get an internal and external lens of what we do and how we can improve. I believe strongly in the power of partnerships, because it helps our company to remain asset-lean and to scale quickly. And our partnerships are mutually beneficial because we have a platform that educates, offers unbiased counselling and also sells sexual health products and services to a rapidly growing audience of young people."  
More stories like this: