Quality micro-clinics for slum dwellers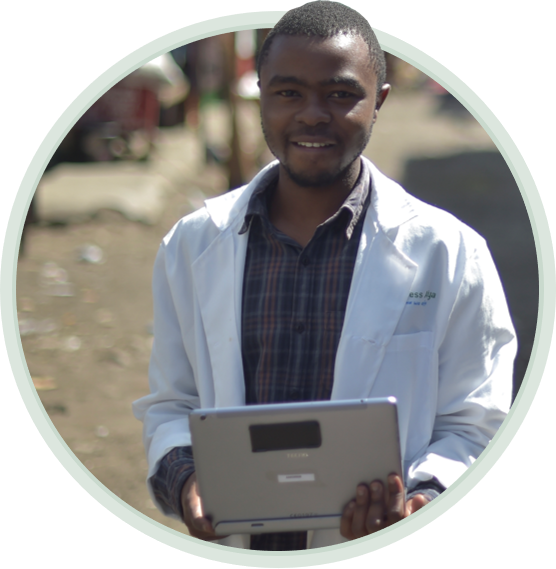 If you live in a slum, healthcare tends to be unavailable, unaffordable and low quality. Social enterprise "Access Afya" wants to turn the tide. It runs 15 high-quality Primary Health Care clinics in Greater Nairobi, and with the help of Bayer Foundation will now scale their offering. 
The Organization
Kenya only has 1% the number of physicians recommended by the WHO, so the name "Access Afya" is a clear message, explains its CEO Daphne Ngunjiri: "Afya is Suaheli and means 'health', and our goal is to enable Kenyans to get access to reliable, high-quality, and affordable primary health care."
Founded in 2012, Access Afya now runs 10 branded micro-clinics in Nairobi and 5 franchises outside of the capital. The low-cost Access Afya clinics are one-stop shops for comprehensive primary health care: They offer outpatient consultations, lab testing, pharmacy services, first aid, chronic disease management, and pregnancy care. Under the social franchise model, they also offer local healthcare entrepreneurs the chance to establish their own business, replicating the branded micro-clinics. Daphne highlights the win-win proposition: "Our expert team of doctors and healthcare managers check and supervise the franchisees' compliance with our brand's performance and medical quality standards, while the franchise takers benefit from our established processes, software, supply chains and marketing concepts."  
Scaling Agreement
With the help of Bayer Foundation, Access Afya is now focusing on scaling their franchise network: A 100,000-Euros scaling agreement will support Access Afya to expand their services in the next two years. Dr. Monika Lessl, Executive Director of Bayer Foundation explains the rationale of the cooperation: "Access Afya is a model project for access to medicine in emerging countries and we want to be a motor for scaling it up. Under the cooperation, we will provide funds, expertise and access to our Bayer network, because Access Afya is exactly the kind of social enterprise we are looking for: It complements our portfolio aimed at achieving health for all and hunger for none."
90 % telemedicine  
In addition to the stationary micro clinics, Access Afya runs one of Kenya's first licensed virtual clinics: 90% of the advice, consultation, diagnosis and prescriptions are carried out through an online mobile doctor service app called mDaktari. The offering includes management of diabetes and hypertension over the phone, teleguidance for pregnant women, digital diagnostics (from ECG to ultrasound), virtual trainings for healthcare workers, and partnerships with local businesses to offer online services to their employees. The Covid-19 pandemic propelled the digital revolution of Access Afya's services both in their stationary and their virtual clinics.
Find out more about Access Afya from its founder and Board Director Melissa Menke:  In an interview, she shares her founding moment, and explains why profits and social innovation can go hand in hand.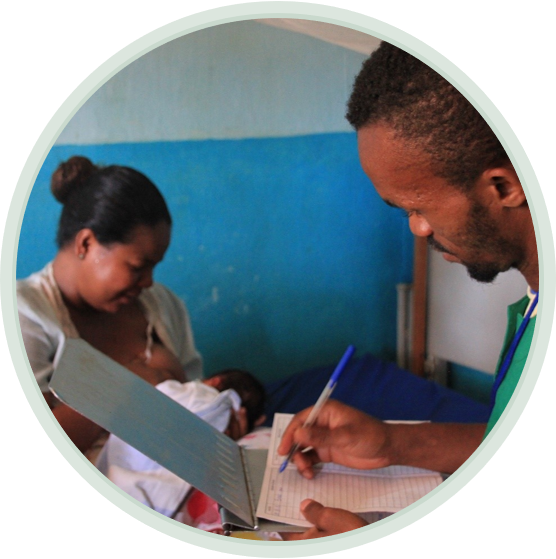 Patient
"I deposit cash to my mTOMADY account at a nearby vendor, and my family also sends money to my account. It is quick and easy, and most importantly, I can be sure the money is safe and available when I need to make a healthcare payment."
"There was a market opportunity out there" - Interview
In Kenya, 34 percent of private clinics are informal or illegal. Social enterprise Access Afya offers a high quality alternative. In an interview, Melissa Menke, founder and Board Director of Access Afya, talks about how the idea was born, and how social innovation & profits can go hand in hand.
Melissa, what motivates a young US-American student to found a social healthcare enterprise in Kenya?

As a student, I focused on urban development. I took a research trip to Nairobi to study the social impact of rapid urbanization. Walking around, I saw informal clinics provide low quality health care, while unregulated shops were selling questionable drugs. People were actually wasting the little money they had on cures that do not work! And looking into the statistics, I found that more people die of POOR quality health care, than of NO healthcare in urban slums. So I decided to start a high-quality Primary Health Care scheme.
What was your plan?

I did not want a volunteer organization. I saw a market opportunity here, an opportunity to develop a sustainable business model, so my plan was a for-profit social enterprise. The idea was to provide communities with a one-stop-healthcare shop for first-aid, diagnoses, minimal surgery, prescriptions, and licensed medication. I presented the concept to a mixed group of impact-oriented investors who support social businesses, and their funds started us in 2012. 
How does Access Afya combine the for-profit principle with the spirit of social innovation?

We are a public benefit corporation. This is a great structure for a business. You are a legal entity that is accountable to both investors AND the public good. We base our decisions on both shareholder AND stakeholder value. You start small and down-market, and if there is value in your business model, you can build a powerful organization in the long run. We have shown in those past nine years that our concept is viable and a win-win proposition.   
What was your biggest success so far?

The recent launch of our franchise network. It is the first step to scalability: moving from our own chain of impactful health care services, to inspiring five franchise takers to invest in our scheme. Our franchise takers are medical people and entrepreneurs. They earn a living and make a profit. We select them carefully via an established process that rates their medical skills and entrepreneurial expertise. This process is at the core of our franchise system to protect the quality of our brand.  
What about setbacks?

The majority of Kenyans have no health insurance. We wanted to address this by offering a membership option at 1 Dollar a month. But most people still prefer to pay only when they require our services. That was a setback, but we are working with partners to innovate insurance and make it more affordable in Kenya.
In late 2020 you signed a scaling agreement with Bayer Foundation. What is the plan?
Presently we are establishing one next clinic to showcase what we can do. The upgraded concept includes a new marketing package that will make it easier for the franchisees to introduce the service to their communities. We are also digitizing heavily so that innovative digital devices will allow remote diagnostics, and all franchisees will benefit from it. By the end of 2021 we will be ready to scale fast: to 20 clinics in 2022 and 30 clinics by 2023.
On 1 January 2021, you handed over the operational business to your new CEO, Daphne Ngunjiri. Was it hard to step down? 
Not at all. I am very proud to say, that we have an all Kenyan team now, and that we are lucky to have Daphne as the new CEO. She is both a medical doctor and an expert in healthcare management, and she knows Access Afya inside out, having served the organization as Medical Director and Managing Director.
As a Board Director you will be involved in the future strategy of Access Afya. What is your future vision for the organization?
My strategic vision is to scale it to the largest, best quality healthcare franchise in Africa, while making the brand the leader for digital medicine in low resource communities. And here is my personal vision: I want everyone to get access to decent healthcare – no matter where they are born.
Interview: Gabriele Schmitt-Bylandt
Photo Credits: Access Afya
More stories like this: