Trees can create livelihood: opportunities for Malian farmers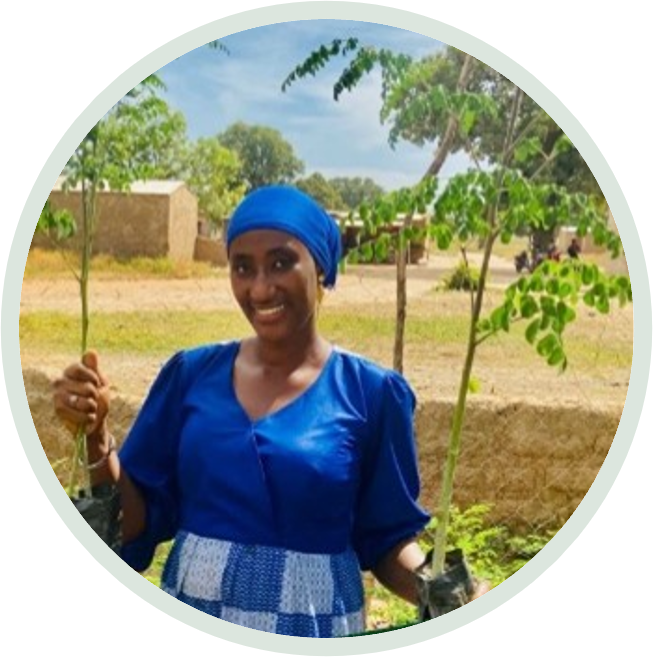 Rokiatou Traoré is on track to economically empower 5,000 farmers (of which 65% women and youth) in Mali by the end of 2023, while demonstrating their ability to become successful entrepreneurs. Through her company Herou Alliance, Rokiatou will support them to plant over 100,000 Moringa trees this year. The income they generate through planting Moringa trees, benefits themselves, their families, their communities and their environment.
To capitalize on the growing demand for Moringa products, Rokiatou Traoré, together with her late husband, started the company Herou Alliance in 2019, which produces, sells and exports Moringa products. Moringa is a fast-growing, drought and harsh climate conditions resistant tree that can grow up to 2 meters. "The trees already exist in Mali. But most people are not aware of the trees' nutritional and ecological benefits," Rokiatou explains.  
Rokiatou discovered Moringa tea when she was traveling in Turkey. She immediately took a liking to the product. Back in Mali, Rokiatou and her husband, who died unexpectedly in 2020, developed the idea to create a processing unit to produce Moringa products.
Her Mali-based enterprise is involved in the entire Moringa value chain; from providing seeds and seedlings to rural farmers to buying their harvest and transforming the moringa leaves into all kinds of products for local consumption and distribution. Thanks to her, farmers in Mali are finding a path towards self-reliance by discovering the potential of Moringa leaves.
In 2022, she planted 18,000 trees, trained over 1000 farmers, developed six new Moringa products and conquered new markets.  "Today our products are sold in 12 supermarkets, and we have representatives in Côte d'Ivoire, Senegal, Burkina, Togo, Lome, France, Germany," Rokiatou adds.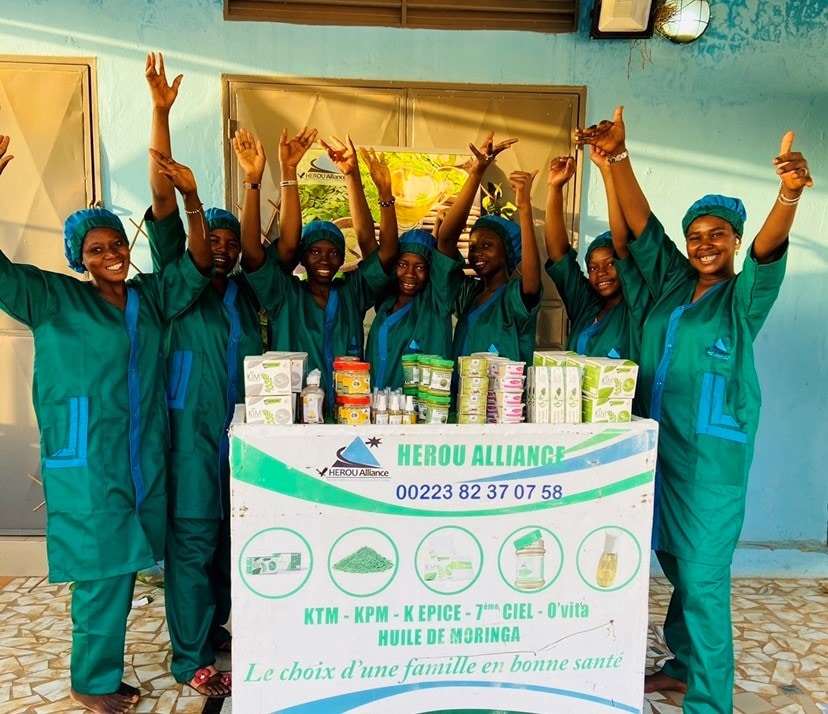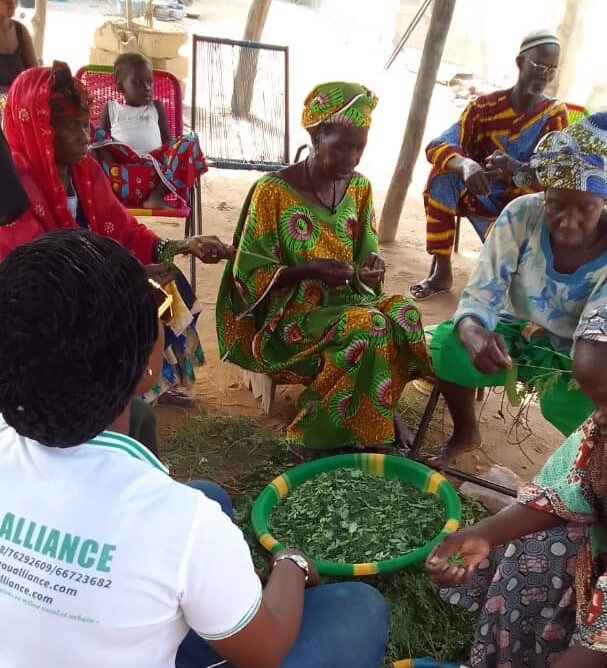 Benefits Moringa
Over the last three decades, nearly two million hectares of forest have been lost from Mali, mostly to make space for farmland — this is known as deforestation. By planting Moringa trees in rural Mali, Herou Alliance supports Mali's enormous fight against deforestation, while creating meaningful jobs in the process.
Moringa trees absorb carbon dioxide 20 times more than other general trees, which means a mature Moringa tree can absorb around 80 kg of carbon per year, making it an effective tool to combat the effects of climate change.
"Another great benefit is the fact that Moringa can be used to combat malnutrition, especially among infants and nursing mothers," Rokiatou adds. "It provides a versatile, nutritious food source with high levels of proteins, vitamins and calcium throughout the year."
Partnering with myAgro
To guarantee the supply of high-quality Moringa leaves, Bayer Foundation introduced Herou Alliance to one of their partners in West Africa; myAgro. myAgro's unique mobile layaway platform allows farmers to use their mobile phones to purchase seeds and fertilizer in small increments. Through this new partnership, myAgro's farmers were offered packages containing moringa seed or seedlings. Within six months after planting, the leaves of the seedlings are ready to be harvested. Women are continuously trained by myAgro's agronomical entrepreneurs on good practices for planting, growing, picking, sorting, washing and drying Moringa leaves. Once this process is done, the farmers sell their products to Herou Alliance, which transforms the leaves into tea, oil and other products. "Thanks to this partnership, we are already operating in 25 villages!" Rokiatou explains.

Author: Christien van den Brink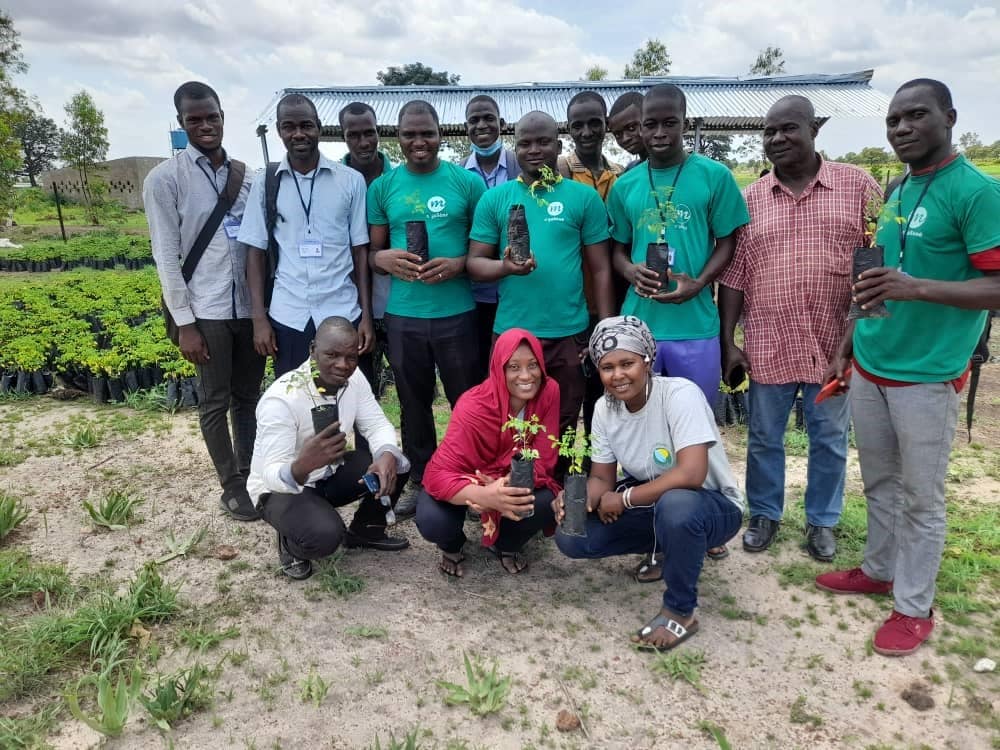 More stories like this: