2020 Bayer Foundation Report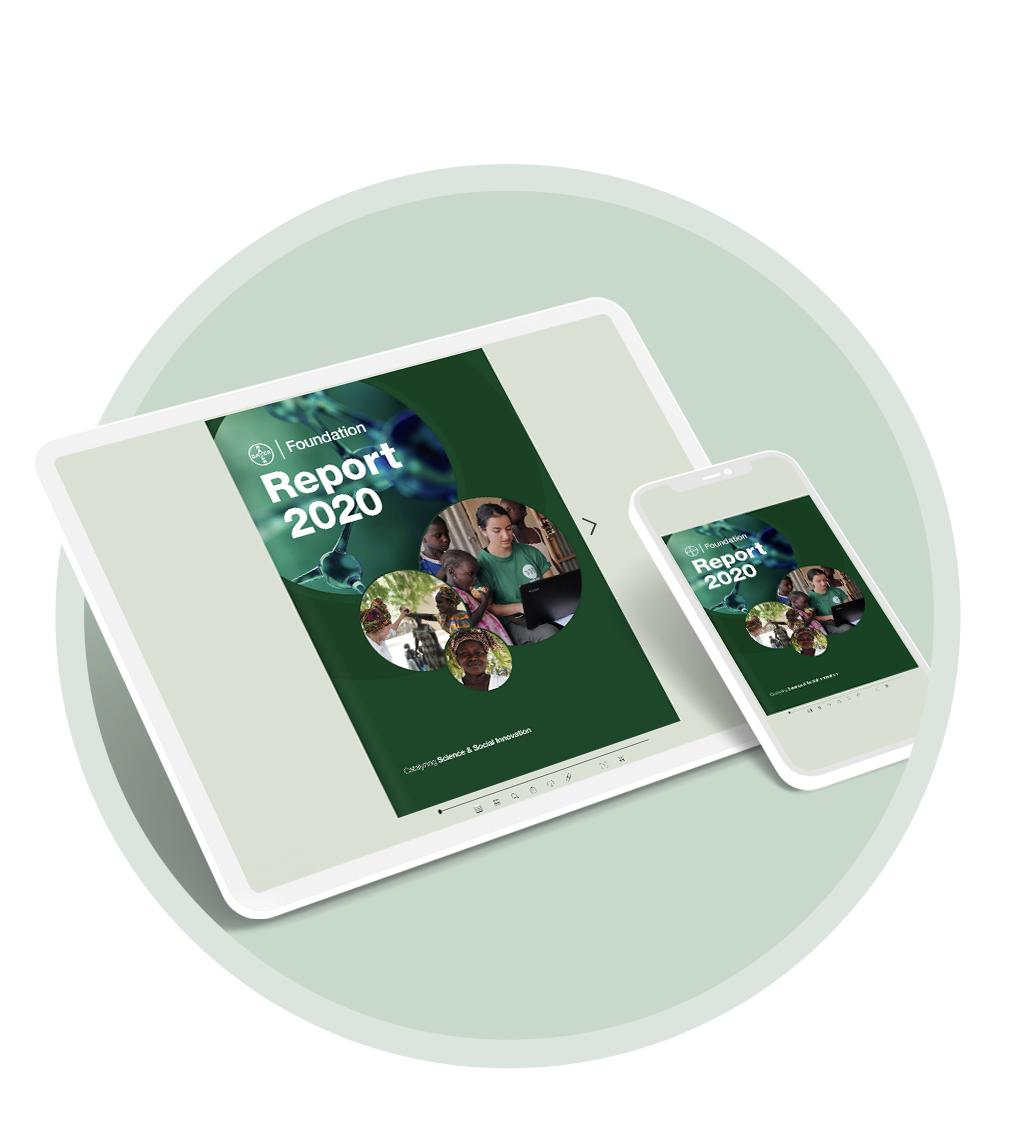 Bayer Foundation at the intersection between science and social innovation
Bayer Foundation is uniquely positioned at the interface between science and social innovation - two of the key drivers when it comes to reaching a World with Health for All and Hunger for None. By bridging these fields and supporting young and emerging scientists and entrepreneurs around the globe, as well as by partnering with stakeholders on the ground, Bayer Foundation is able to drive breakthroughs in the field of science and direct them toward communities in need.
The Foundation's first Report, sheds a light on their work and key achievements. Today, Bayer Foundation is publishing its Bayer Foundation Report, sharing insights into its work and key achievements. The positive impact of strong women has been highlighted and recognized through the Foundation's work. Today, more than ever, we seek to use their innovative force in their role as leaders in science and as entrepreneurs to bring about lasting change. The recent launch of our Women Empowerment Award is a further testament to this commitment.
Over the past two years, Bayer Foundation has been working closely with partners such as research institutions, foundations, social enterprises, scientists and entrepreneurs. The Report also puts the spotlight on their inspiring achievements in a breadth of initiatives ranging from improving access to basic family planning for women in Uganda to fostering breakthroughs in research on COVID-19 through artificial intelligence solutions.
While this report looks backwards and the stories in it are testimony of the impact the Foundation already has, it also aims at setting the tone for the Foundation's ambitions and goals going forward. Last year, Bayer Foundation decided to renew its strategic focus in order to further amplify its impact, and make it more enduring and transformative across the sectors and geographies Bayer Foundation engages in.
Follow this link for the full 2020 Bayer Foundation report.
We look forward to your feedback and wish you a happy read.
Bayer Foundation Report
YYMMDD
Author/Uploaded by
Take a look at our video for the first ever Bayer Foundation Report.
More stories like this: