Enabling Young African Scientists to Become Scientific Leaders in Their Community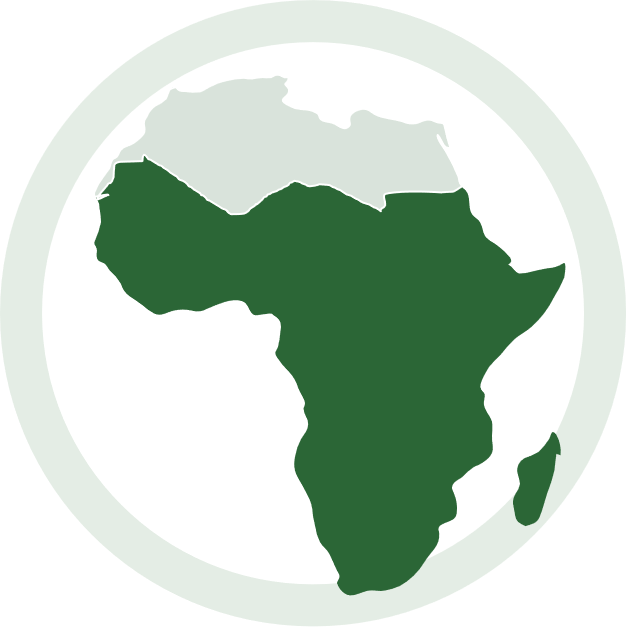 Enabling Young African Scientists to Become Scientific Leaders in Their Community
The Bayer Foundation will extend its existing cooperation with the Alexander von Humboldt Foundation (AvH), now making research grants available in Germany for doctoral students from across sub-Saharan Africa. PhD fellowships and a research hub in sub-Saharan Africa will further enhance the partnership and facilitate the development of the next generation of scientific leaders within their communities.
"Western science has often failed to provide solutions for the challenges that arise in sub-Saharan Africa, often because we don't know which are the right questions to ask" says Karl Collins, Program Director, Science at the Bayer Foundation. "Therefore, by supporting the training of young sub-Saharan African scientists, we want to put them at the center of knowledge creation and facilitate sustainable development within their own countries."

The duration of the cooperation will be six years (2021-2027) and the Bayer Foundation will provide a total of three million EUR to support young scientists from across sub-Saharan Africa to undertake groundbreaking research in the Life Sciences.
Humboldt-Bayer Science Foundation Fellowships
As part of the cooperation, a total of upto 18 researchers will be invited to carry out scientific research in the Life Sciences in a research institute or university in Germany, addressing questions relevant to the further development of their countries of origin.
We view science as a critical enabler for societal progress - in line with our vision of ' Advancing Science and Social Innovation for a world with Health for all, hunger for none'," says Dr. Monika Lessl, Executive Director of the Bayer Foundation. "In cooperation with the Alexander von Humboldt Foundation, we want to strengthen researchers in sub-Saharan Africa to make a difference, promote progress and become the next generation of scientific leaders in their community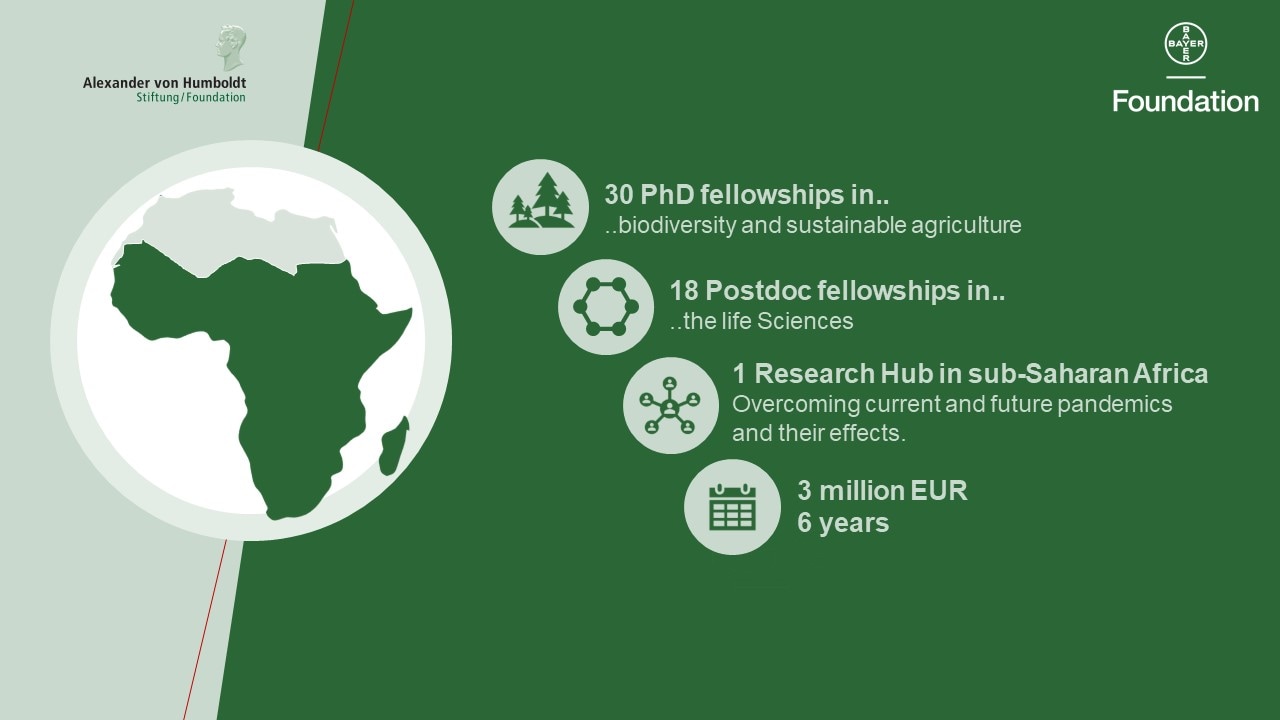 AGNES-Bayer Science Foundation Research Grants
A second part of the six-year cooperation is to enhance the 'African-German Network of Excellence in Science' (AGNES). Founded in 2011, this network facilitates training for junior scientists and scholars in sub-Saharan Africa, linking them to the African and international Humboldt Network. Based in Benin, AGNES promotes academic excellence in research and university education in sub-Saharan Africa as well as promoting regional academic exchange between researchers. As part of the 2021-2027 cooperation, the Bayer Foundation, will make 30 grants available through AGNES for PhD students to undertake field studies in Biodiversity Conservation & Sustainable Agriculture in sub-Saharan Africa.
"AGNES is obviously delighted to engage in such a collaboration with the Bayer Foundation. The support will help the best young researchers, who usually lack means to undertake good research work, to complete their doctorate and also engage in the promotion of excellence in science in the region,"Prof. Glèlè Kakaï, Head of AGNES states.
Humboldt-Bayer Science Foundation research hub
The Bayer Foundation and the Alexander von Humboldt Foundation will also support the creation of a Research Hub; intended to enable AvH alumni, who hold scientific leadership positions at African universities and research institutions, to carry out long-term research concepts that are particularly relevant to coping with pandemics. For this purpose, the alumni will select cooperation partners in Germany and across Africa.
Enno Aufderheide, the General Secretary of the Alexander von Humboldt-Stiftung says "With the Research Hubs we are handing the control over to Africa. Excellent researchers there decide what research their country needs - and they offer German partners the opportunity to cooperate. This is completely new - and the interest on the African side is huge." Daniela Kneissl, Head of division Africa, Middle East at AvH, adds "The Research Hub, to be established either in the field of sustainable agriculture or public health, will certainly contribute to enhance resilience of African societies in the post-corona period."
Cooperation since 2013
The Bayer Foundation and the Alexander von Humboldt Foundation have been cooperating since 2013. The existing Humboldt-Bayer Research Fellowships have allowed the partners to award 40 additional scholarships to excellent scholars from abroad, opening up new network opportunities for these scientists. Previous awardee (2013-2014), Dr. Irina Delidovich from Kazachstan, who is now group leader at the RWTH Aachen University, said during an interview earlier: "It was a time of great professional development for me. I did not have to worry about funding, and could focus exclusively on science. From the very beginning, we were invited to participate in a number of events, networking meetings, and trainings organized by Bayer."
"For me, the opportunity to meet people working at Bayer was the most precious of them all. I am still in contact with some of them today. I am very glad that the Bayer Foundation continues to collaborate with the Alexander von Humboldt Foundation. I hope that all the new post-doctoral researchers working on scholarship have a lot of fun at Bayer!" Dr. Delidovich added.
More stories like this: