Science is for everyone, not just for scientists
Building trust in science through inclusive science education and accessible societal engagement. Science is for everyone, not just for scientists.
Shaping the Future
Societal Engagement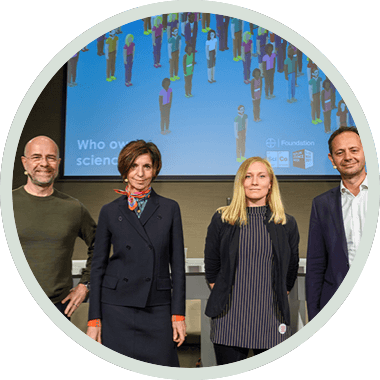 We believe that society as whole must have an active and constructive role in the science that affects their lives: science is for everyone, not just for scientists. If people can contribute to scientific work, debate and decision making on the topics that affect their lives, we can create a more positive and constructive relationship between science and society, and broadly enhance trust in science.
At Bayer Foundation, our actions include inclusive public events relating to contemporary scientific topics and that are relevant to peoples lives. Our intention is that these events can provide individuals with the knowledge, skills and opportunity to engage with science in a positive manner.
In addition, we are also seeking to better understand how to effectively communicate science in the modern world. With a backdrop of fake news & disinformation, social media is increasingly dominant as the primary information source for many people and an increasing number place their trust in "influencers" over scientific experts. We are supporting research in science communication to understand how we can ensure the most relevant and factually correct information reaches the general public in an accessible way, as well as recognizing individuals who stand-up for science & the scientific method in public discourse or policy making with The Ernst Ludwig Winnacker Award: Enhancing the impact of science for the benefit of society.
The Ernst-Ludwig Winnacker Award:
Enhancing the impact of science for the benefit of society.
Information overload, fake news and mis-information make it incredibly difficult for any of us to make genuinely informed decisions about even seemingly simple aspects of everyday life, never mind complex and nuanced scientific topics.
Here we must typically we rely on the media, scientific experts, and politicians to guide us though unfortunately, misinterpretation or mis-representation of scientific data – willful, or more often than not, unintentional – is more common than we would like. Whether we are talking about vaccine safety, climate change policy, or the air pollution around our children's schools, it is critical that we address mistakes so that we not only correctly understand the issues but can make effective evidence-based decisions as we look for solution for the challenges we face.
The courage and effort required to stand-up for science & the scientific method to redress these errors, often in an unwelcoming or even sometimes hostile public environment should not be underestimated. At Bayer Foundation, we want to recognize those that stand-up and champion science & the scientific method and have therefore established this eponymous award in honor of the 80th birthday of the revolutionary biochemist and former Chair of the Board of Trustees of the Bayer Foundation, Ernst-Ludwig Winnacker. The establishment of this award recognises not only his outstanding contributions as a researcher, but his unwavering drive in standing-up for science and the scientific method, and his continual commitment to advancing science for the benefit of society.
What is the Ernst-Ludwig Winnacker Award?
This award will acknowledge those who stand-up for science and the scientific method, and consequently enhance the impact of science for the benefit of society. This award is not given in recognition of excellence in scientific research but for engaging in evidence-based scientific discussion in a public, political, industrial, or educational setting.
Awardees can be recognized for actions such as:
Championing science or the scientific method in public discourse
Effectively addressing incorrect scientific communication or decision making
Driving evidence-based policy decision making (political, industrial, educational)
Societal engagement on critically important yet controversial scientific topics
Fostering constructive dialogue about science within society
Promotion of science in the face of a challenging environment
Awardees will receive 3,000 € and the option to receive up to 10,000 € of additional funding for projects that further enhance the impact of science for the benefit of society.
Who is eligible?
Anyone with significant contributions to science in  German-speaking countries.
The process
Nominations will be invited from leading voices in science across German speaking countries and the winner will be selected by the Science Council of Bayer Foundation and selected guests, including Prof. Ernst-Ludwig Winnacker.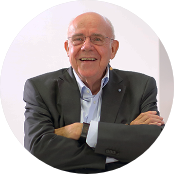 About Ernst-Ludwig Winnacker:
Ernst-Ludwig Winnacker is one of the most prominent and influential biochemists across the globe. In addition to his outstanding scientific career and many professional roles, he also chaired the Board of Trustees at Bayer Foundation from 2007 – 2019. After studying chemistry and completing his PhD at ETH Zurich in Switzerland, he undertook a postdoctoral stay at University of California, Berkeley, USA, before starting his independent research career the University of Cologne in Germany. He subsequently moved to the Ludwig Maximilian University of Munich (LMU), and as director of the Laboratory of Molecular Biology (1984 – 1997) he substantially shaped the formation and development of the Gene Center Munich. With numerous world-leading scientific publications Professor and books, he influenced the development and direction of molecular biology worldwide. As president of the German Research Foundation (DFG, 1998 - 2006), Secretary General of the European Research Council (ERC, 2007 – 2009) and Secretary General of the Human Frontier Science Program Organization (2009 – 2015) he utilized his positions to selflessly foster high quality basic research in Germany and across Europe. In addition, Professor Winnacker is an ardent & vocal supporter of women in science throughout his career, as well as having a reputation for supporting the most exciting breakthrough talents.
Discourse on Public Health (DiPubHealth)
With a view understanding effective science communication & building trust in science, we are supporting a research project that will be undertaken by the Karlsruher Institut für Technologie; RWTH Aachen University; and Wissenschaft im Dialog.
The project has two central goals:
Develop an understanding on the dynamics of public discussions around selected social debates such as the COVID-19 pandemic
Use this understanding and systematically develop science communication formats to influence public discussion, test them in real time settings, and subsequently improve them as necessary.
Tho achieve these goals, the team will investigate the fragmentation of public opinion across different sub-sections of society, as well as the complexity of communication in the digital age. The team will also investigate how knowledge is built up and debated in a public forum and which voices are the most influential & why.
You can learn more about this challenging & exciting project here.
About:
From 2021 – 2024, Bayer Foundation will donate 450,000 € in support of this independent research program.
Technology & Societal Development
New technologies are a critical tool as we work to address the very immediate threat of climate change, and work to protect both the planet and the global population. However, the benefits of new technologies can only be utilized to their full potential if they are both accepted by the wider society, and importantly, are shaped and developed with society.
To understand how we can effectively engage society in regard to new technologies we are supporting a research project with Acatech (German Acadamy for Technical Sciences) which will develop, test and evaluate a scientifically based methodology for technology communication. The aim is to create more openness in society towards new technologies and the target group of the project is society as a whole.
About:
From 2020 – 2022, Bayer Foundation will donate 300,000 € in support of this independent research program. The specific research program is part of a broader program entitled "Shaping technological change: Transparency, dialogue and participation for social consensus" which you can learn more about here.